Avail your eyes towards the water!! Is that a seal with candystripe suit?! The Great Walrus rumoured to dress up as Waldo?! NO Beachgowers! Feast your eyes on AP's own JCo swimming as one with the flow.  His skin a healthy brown. His movements strong and slow. His voice bearing positive tidings!
Animal Parts are set to release the first of two EPs, entitled
Other Rooms
, written while visiting numerous domiciles across the beautiful countries of America. Marking the group's first acoustic guitar driven release, JCo is taking back to the familiar road, bringing new songs, vinyl albums, and promoting his newly pigmented skin. 
A Limited Edition Vinyl release
, Others Rooms
 is set to be unleashed digitally 
Tuesday August 20th
, with a bang-smack party/performance planned at the Common in Toronto.
The second EP is set to be released in the fall of 2013, promising to prepare you for the coming of winter, is entitled
"Six Arms To Hold You"
. 
Be free. Eat Well. and love yourself as Animal Parts loves you. 
08/07/13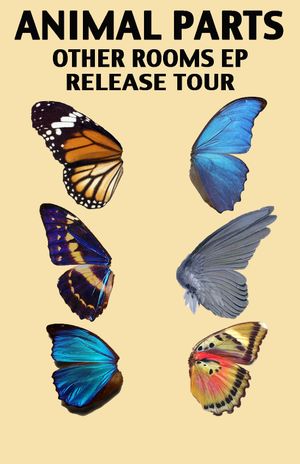 Waterton Lakes Opera House
Waterton Lakes, AB
1.30pm
08/07/13
Twin Butte Country General Store
Twin Butte, AB
8pm
08/10/13
Edge Of The World Festival
Haida Gwaii
11.30am
08/14/13
The Blackbird
Coleman AB
8pm
08/16/13
The Palomino Smokehouse
Calgary, AB
5pm-9pm
08/17/13
The Spaghetti Western Festival
Calgary, AB
08/18/13
House Concert*
Calgary, AB
08/20/13
The Common
w/ Grady Kelneck
Toronto, ON
*If you would like to attend this house concert email booking@animalpartsmusic.com