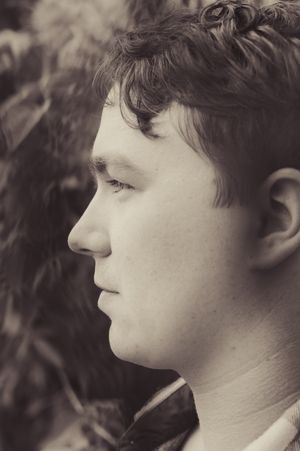 What happens when a man submits to the sum of his parts? Mustn't it be gruesome, being overtaken by your inner animal? But behave, all you 'fraidy teddy huggers! Beware, all premature party shufflers! Look behind the curtain to see who's standing with his back to the cloth…
Formerly known to perform under his Christian name, Joshua Cockerill has been reborn. He has spent years traveling with his guitar (and sometimes without), dismantling a chest of drawers, writing speeches for unnamed local politicians, secluding himself in a cabin and it's adjacent snow fort, and collecting evidence against his useless organs (some of which he's had removed). As evidence, Mr. C no longer looks like the kid he once did. He dresses sharper. Has more hair. And has found his voice while on vacation in the forests of Ontario. In fact, his new batch of 2012 music has qualities of a man having come to terms with his inner animal. "I've always considered myself a stray horse" he admits.
Indeed, he has succumbed to his primal corners, and now re-emerges with fellow mammals as Animal Parts. But Don't fear the name or look into the sun! They wouldn't make their music noises, just singing and singing, without its meaning something. Simply ask musical guru Billy Vitt, who claims 'Animal Parts' new album 'Animal Parts' "had me exceeding the speed limit and crossing the lines. I haven't had more fun since I was a school boy and forced to wear shorts."
And so it is. From the horses mouth. The birth of something truly unknown. Finally, answers to the murmurs of "who does he see when he turns out the lights?" The music can be yours on August 21st, 2012: a day for going outdoors to feed old bread to unbeknownst birds.
I leave you with this final thought, dear reader, from the album's shortest title, a reference to the overhead fluf fluff fluttering of a chickadee in flight, "Behave, and you will hear it too."
Fair is well and peas to all.